Perspectives Treatment Center is conveniently located in a private and discreet setting just over the border of both Southbury and Middlebury at the Cornerstone Office Park in Woodbury, Connecticut. We are at the intersection of Routes 6 & 64, next to Wells Fargo Bank and directly across the street from Elennis Restaurant.
The address of our Treatment location is 51 Sherman Hill Road, Woodbury, CT 06798.
Please Note : We are unable to receive mail at this location.
Our mailing address is 100 Main Street North, Suite 125, Southbury, CT 06488.


OK, back to directions,,,once inside the Cornerstone Professional Park we are in the "A" Building, which is the largest building in the park, located in the far rear of the complex. We are on the 2nd floor in Suite A-203. This is our doormat: Just knock and come in.
The waiting room inside our 4 office suite features a full size Pool table and a Ms. Pac-Man Video game, :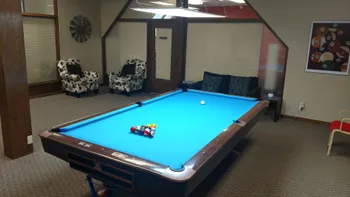 Here we are according to the interactive Google Map below, easily accessible from
I-84, Route 8, Route 64 and Route 6.